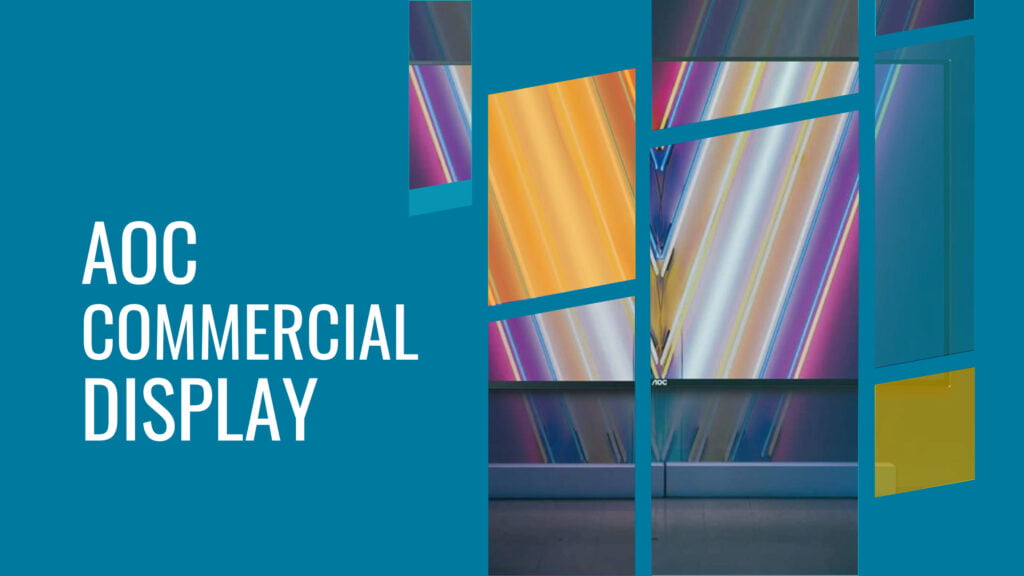 AOC brings new features not present elsewhere. With its new system, it promises convenience and simplicity in the set up of digital signages, resulting in excellent exhibits of graphic advertisements and similar images. Customers will be able to appreciate the immersive and seamless displays that will surely capture their attention. It is built to perform consistently, reliable for continuous use 18 hours a day, 7 days a week. There should be no fears from outages, breakage, or overheating as the AOC LCD will present vivid images and clear messaging in most public environments with consistent stability.
Signage is a visual graphics (public advertisements, billboards, etc.) or groups of graphics that communicate information to the public. It is to communicate or convey information designed to assist the receiver with decision-making based on the information provided.
EQUIPPED WITH AN INFORMATION DISTRIBUTION SYSTEM: MEETING THE REQUIREMENTS OF DISPLAY
Bundled with the Android 9.0 operating system, it can be equipped with the AOC-CMS content distribution system, allowing high-definition video, pictures and other content to be easily distributed through the cloud-based network in a one-to-many broadcast. At the same time, it can remotely monitor the status of the terminal displays in real time, using the synchronization function to display the required information at the same time at regular intervals, in combination with automatic switching, to meet the needs of rail transit, supermarkets and other areas.

Portraits and landscape screen orientation: providing a high-level experience
Meticulously crafted to support two different forms of display orientation: portrait and landscape embedded installation is also available to meet the needs of different venues, improving the look and feel of environments such as shopping malls and specialty stores, offering a convenient display of various types of information.
Full HD image quality: show details accurately
Full HD high-definition picture quality, with up to 400 cd/m2 screen brightness, can make any graphical input source look vivid and delicate, with low-noise images, accurately showing every detail and creating realistic display effects that satisfy the requirements of harsh application scenarios, such as retail-store displays and public signage.
4-sided narrow bezel design
With narrow bezel on all 4 sides, the signage delivers an immersive and seamless viewing experience.
400 nit's high brightness
To ensure the screen's content captures your target audience's attention, it is built with the capability to display at na average 400 nits of brightness.
Smart split-screen: show a multi-faceted vivid picture
In the AOC-CMS content distribution system, each area can be fine-tuned to split the screen. Multiple split screen formats can be set-up as needed, and pictures, videos and music can be played at the same time. Applied to a catering store, food can be presented on multiple screens, allowing customers to see vivid and attractive pictures of the foods, improving their impression of what is an offer.
Wireless solutions with Wi-fi (Option)
The Wi-fi module allows wireless managing, surfing internet, and APP downloading.
Rich interfaces: meet the requirements of multiple end-users
Support for HDMI, USB and other rich interfaces, suitable for various application scenarios and fully meeting customer needs.